From 1822 to 2021, the Village of Dundee's rich history continues to grow. Known as the Hub of the Highways for its unique randomly-angled intersection comprised of Tecumseh, Monroe, Riley, Main, and Ypsilanti streets in its commercial district and centered by a 1913 memorial bandstand in the triangled area, shops, restaurants, and seasonal activities are popular destinations for all to enjoy.
The Old Mill Museum adjoins the Village; it is situated on the River Raisin. Lined with lofty trees whose trunks climbed the wild grape vines, its French name is "River Aux Raisin." Previously used as a saw mill, gristmill, and hydroelectric plant, it was originally built by Henry Ford as part of his Village Industries. As one of the small factories located in rural areas of Michigan, these were developed to provide workers—mostly farmers— a stable source of income during the winter months.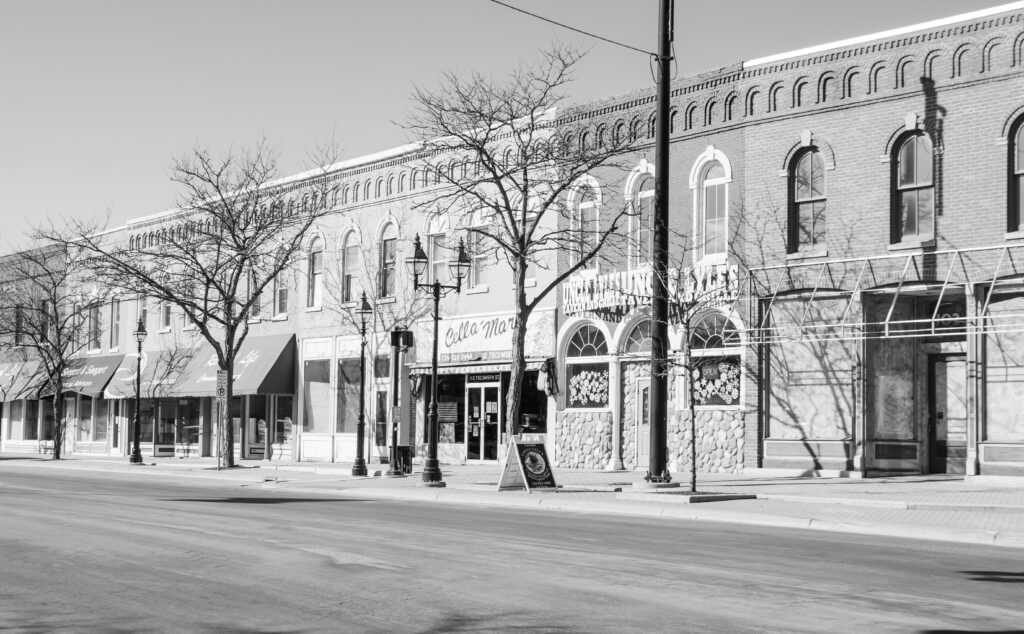 1822: William Comstock's land purchase.
1823: William H. Remington's land entry, which included both sides of the River Raisin.
1832: Dundee Village formerly founded by Sybrant Van Nest and Ebenezer Dustin. Mr. Dustin is credited for naming the Village of Dundee, in memory of his native Scotland.
1833: A bridge was built across the River Raisin to replace the rope ferry that brought early settlers across its width.
1838: Dundee established itself as a township.
1865: Mr. and Mrs. Israel Drew donated the triangle center of the district with the stipulation that there was to be no place of business built on the site so that it remain a place of beauty and a gathering spot for the community.
1913: A memorial bandstand dedicated to the soldiers of World War I was built in the triangle center.
1935: Henry Ford began refurbishing the mill. In 1936, the plant opened as a copper-alloy foundry, employing 125 people.
1997: Cabela's 225,000 square foot hunting, fishing, and outdoor merchandise store opened west of Dundee at the intersection of US 23 and M 50.
2003: Dundee Community Schools built a new high school.  It would be the first time Dundee's upperclassmen would have their own building.